Presenting different interior design styles will generate inspirations to help
you identify your personal style for your dream home.
Our closeness to the beach sets a lifestyle of a carefree, relaxed feel and a sense of balance and harmony that natural elements bring. Colour palette ranges from the sea – blue sky, aqua water, seaweed green, From the earth are the Sandy yellow, beige stones, grey rocks and soft sandhill green plants. Whitewashed timbers and natural driftwood colours.
Coastal materials such as shells, coral, driftwood, jute and rattan are featured accessories in this style. Artworks that reflect the nature of the beach and marine flora, fauna or nautical motifs are perfect.
The coastal style is well suited to Far North Queensland's lifestyle; bringing the outside in to create a relaxed retreat.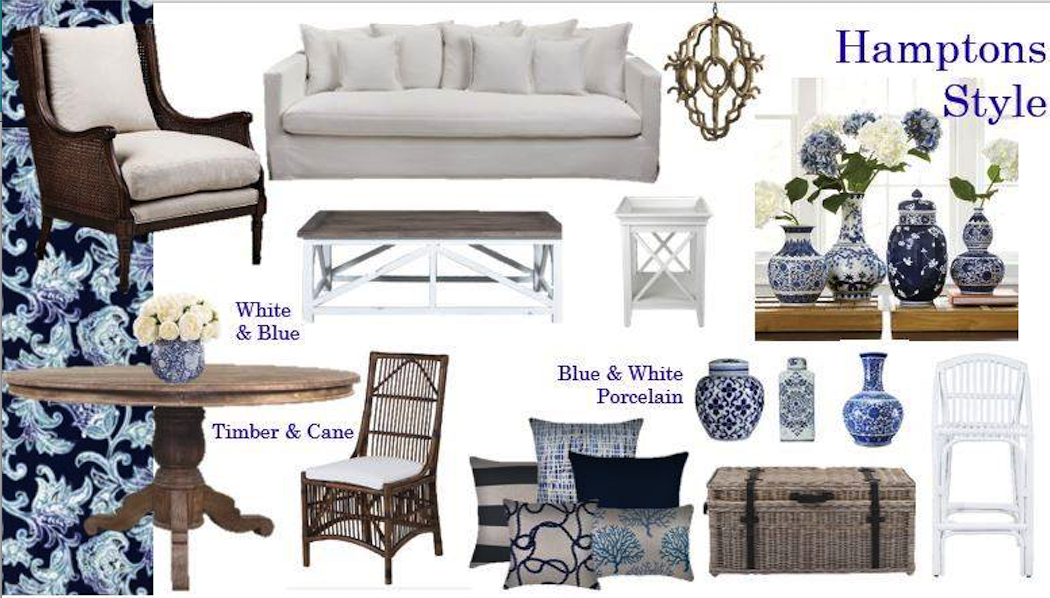 The Hamptons look originated from the relaxed, yet opulent seaside summer colonies of Long Island, New York. The area features some of the most expensive and luxurious residential properties in the United States.
The Hamptons style creates an environment that is fresh and inviting, informal yet more orderly than other styles. Characterized by white or neutral painted finishes with comfortable furnishings, and simple accessories that reflect the natural colours of a coastal setting.
Living in the tropics we enjoy a casual and relaxed lifestyle. Our open style living defines our choice of furnishings as comfortable, allowing airflow, and able to withstand the tropical elements.
Asian elements included in this style are rattan, solid tropical timbers and botanic colours to help create an elegant modern interior; a style that is beginning to emerge. It introduces organic and tribal elements of the whole of Australasia in a contemporary way.
Bringing the Outdoors Inside
Inspired by the casual relaxed climate and lifestyle, we see luxury white houses with shutters and balconies for outdoor living. Furnished with natural elements of bamboo, rattan and solid timbers. Colours of hibiscus, pineapples, frangipani and palms. The British aristocracy developed plantations in the Caribbean and there this style also represents a 'plantation' style.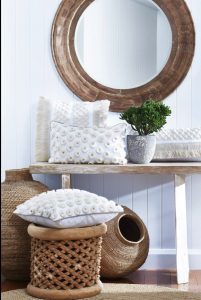 Exuding sophistication and luxury, this confident style has elements of velvets, brass, crystal, mirrors, chandeliers, marble and leather. It is high-end contemporary with beautiful traditional influences, making the home a showpiece of classic design.
As we venture out into the world, the world comes back to us. Borrowing elements from African, Asian, Indian and Moroccan cultures and blending them together. The result is an eclectic style of modern and traditional with organic materials of rustic timbers, beaten metals, bone inlay, tapestry and natural textiles, feathers wall art, leather, stone carvings, pots and hides.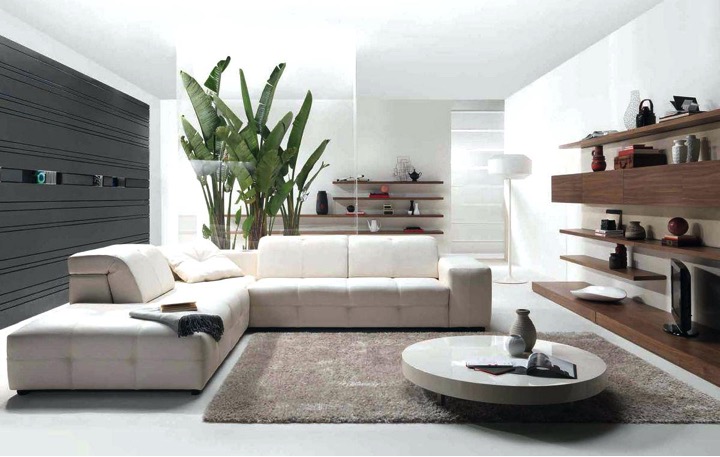 Contemporary style incorporates a range of styles established in the latter half of the 20th century, with clean lines, solid or subtly patterned fabrics, and minimal accessories. Open plan living with natural light. It utilises light coloured timber furniture of oak, elm, and birch, clear glass, and stainless steel.
A warehouse or loft in New York City is the inspiration for Industrial style. The raw unfinished look of exposed bricks, ducting, pipes and ceiling, metal panelled windows in a sparse space are softened in a sophisticated way. Furniture often traditional in antique stressed leather, metal and raw timber tables, industrial pendant lighting, factory style mirrors and bold abstract artwork.